Happy Friday my fitness weirdos.
Bored with cardio? Hate cardio? Dread cardio? Don't worry you're not alone here.
Sure I run on the treadmill or flip through copious amounts of trap music while sweating my poor little white girl ass off on the stairmaster or elliptical. These to me are boring. But they are mindless if I don't really want to think about what I'm doing.
Can I have fun during cardio you ask?
YES, well kind of. You can change it up and trick your mind into keeping busy itself.
let me tell you how..
Have you tried interval training? Not only is this a good way to keep your muscle from burning away on the treadmill, this will help maintain muscle AND burn that extra fat you're looking to lose.
a couple of my favorite intervals include a full body workout that will maintain muscle and burn fat like the dickens. Yes I said dickens – SUE ME.
First things first, find that big open activity room in the gym, or some space for yourself where you can find it.
There are tons of apps you can get that you can use for interval training.
Here's the one I use: Interval Timer App
The timing that I follow is usually 1 full minute of each exercise, one to the next.
Once you do one full circuit you take a 1-2 minute rest. This would be after about 5-6 different interval training exercises back to back for a total of 25-30 minutes. Sounds incredibly intense, but trust me you will be surprised at your strength at pushing through.
You'll obviously want to set up some sort of stations for yourself so you can jump from one to the next as soon as you can.
Interval exercise options
Double Wave or Alternating Wave Rope Slams:


I'm sure if you've been to the gym before you've seen people slamming these bad boys around like nobodies business. Not only does this get your heart rate pumping but you're going to feel this in a lot of your shoulders and triceps. Get them burning!
Deadlift to overhead press


Now for these your gym will have lighter bars and weights somewhere around. Use these to perform deadlift to overhead press. You don't need to have major weight on here to have you sweating!
Dumbbell raised squat


Yes this looks awkward as fuck, but own it. This shapes them hamstrings and glutes big time. Now instead of using two benches a gym will usually have the stackable plastic benches you can put together yourself. Don't be afraid to drop that ass girl – or guy.
Jump Squats


Have to love them plyos and what they do for you! Continue to keep your heart rate up with 1 minute of these bad boys. Once again, make sure you get low and make it count!
Wall sit


cool things down a bit with a wall sit, I usually start or finish my circuit with this one as it will slow your heart rate down, but keep the legs and butt burning.
Elbow to hand plank


This will not only target your abdominals but also your shoulders, tris and bis.
Bosu ball push ups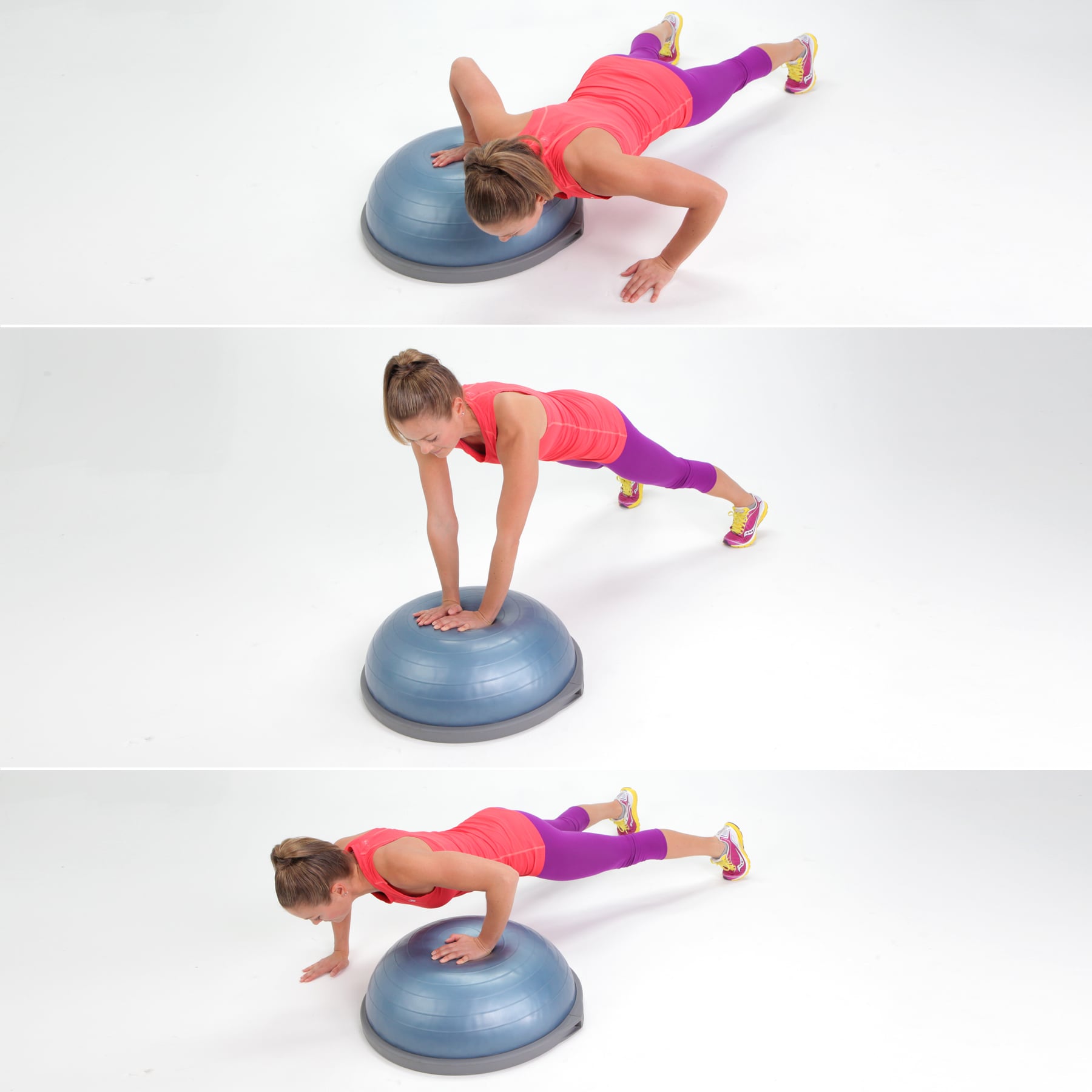 This one is pretty straight forward, there is a huge variation of ways to do bosu ball push ups.I suggest finding your favorite or just one that works best for you. This will target your chest area big time.
Sliding disc crunches


These will burn like no tomorrow and will target your entire abdominal area.
I found doing these as shown above or including the upside down bosu ball was a great way to get away from normal crunches or ab exercises.
Now go kill it my fitness weirdos, I believe in you.
HAPPY FRIDAY – enjoy your weekend.
xo
Karly